---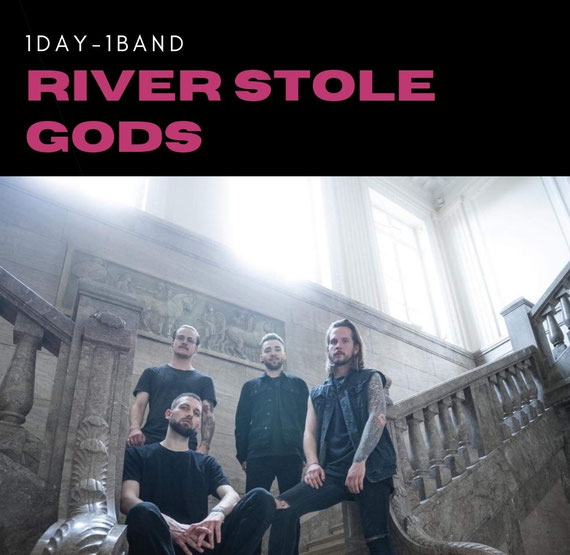 ---
Hey! :) Let´s continue 1DAY1BAND in 2021! With the Düsseldorf, Germany based band
Heavy tunes from the local scene
River Stole Gods +++ Hey! Let's continue the virtual travel journey with the blog's homeland again - Germany! Let's stay to the heavier sounds with River Stole Gods!
Emerging in spring 2019 in Düsseldorf, Germany, RIVER STOLE GODS play Modern
Metalcore with progressive impulses and prove courage to a complex, rhythm-driven sound world. With a focus on sound, atmosphere and dynamics RIVER STOLE GODS create a vibrant sound wall, which continues to evolve with the individual influences of the band. The concentrated energy of the five members then discharges into polarizing live shows and sweeps the crowd into a mighty sound current.
---
---
RIVER STOLE GODS leave their first creative fingerprint approaching the metal scene with their EP Sky Architects. In four songs, the quintet presents itself as a versatile sound artist: from electrifying, progressive riffs to driving, djenty breakdowns, the band represents a broad sound spectrum. Versatile vocals seem to tell scenarios from a different timeline - lyrically and captivatingly RIVER STOLE GODS ring in the first chapter of the Sky Architect. A result of five passionate musicians, who are unafraid of their musical path.
With their second and current release APPARITIONS RIVER STOLE GODS go one step further and open their next musical stage with two new highly progressive tracks. The EP picks up a wide range of sounds - sharp guitars and an aggressive, prominent bass paired with brutal, yet profound vocals are a successful interlude in the history of Sky Architects
International TOUR 2020 (Support Ingested):
East Europe Tour, Januar 2020
Ukraine Tour / 22.-25.1.2020 / cities: Odessa, Kiew, Kharkiw
Naether
Northpole
Track by Track
If you're curious for what the band brings up next, please check out River Stole God's music! :)
---
FIND THE BAND I SOCIAL MEDIAs