---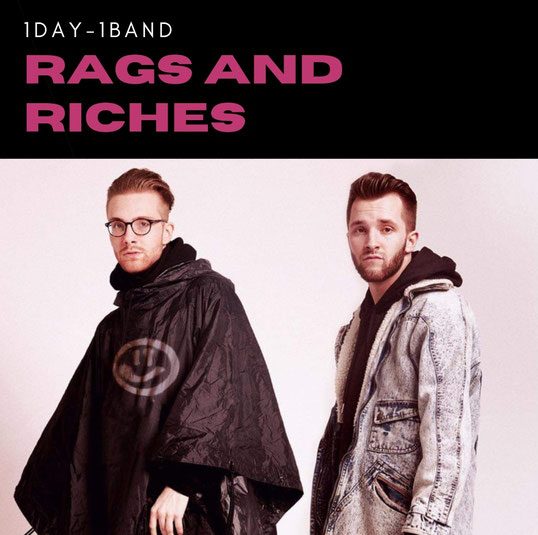 ---
Hey! :) Let´s continue 1DAY1BAND in 2021! With the Lexington/ Kentucky, USA based band
RAGS AND RICHES +++ Hey! Let's continue the virtual travel journey to another continent, the country of endless opportunities - United States of America! Let's move to Rock/ Pop sounds here!
Inspire a generation of dreamers
The vision of starting music as brothers in 2017 was, to express hope out from melodies. Surrounded by every day's influences, Tanner and Peyton Whitt followed the idea to arise from human's negativity and bringing up good vibes through their lyrics.
---
---
Feel free. Let go. Be alive
RAGS AND RICHES describes themselves as an adrenalized, American Pop-Rock band from Lexington, Kentucky. Over the last four years, the band has discovered their significant sound, identity and aesthetic. In February 2019, RAGS AND RICHES released their debut Single "Speed of Sound". Impressively, the song reached almost 800,000 Spotify Streams and over 530,000 YouTube views.
The brothers continued their release collection with "Arrival", "X", "War Cry", "Not a stranger" and "Light it up". Getting a taste of the electric mixing sound, the duo spent their time mostly in 2019/ 2020 on their first headlining tour. During this year, RAGS AND RICHES released their storytelling Singles "Crossfire", "the Beast", "Outlaw", "Bet on me" and their newest record "Darkest hour" (15th October 2021). The musical Genre contains modern Rock/ Pop - combined with electronic beats and mysterious elements.
For 2022, you can catch the duo also in tour :)
YOU GOTTA LIVE TO BE ALIVE TO BE ALIVE YOU GOTTA LIVE YOUR LIFE.
---
If you're curious for what the band brings up next, please check out RAGS AND RICHES´ music! :)
---
FIND THE BAND I SOCIAL MEDIAs