---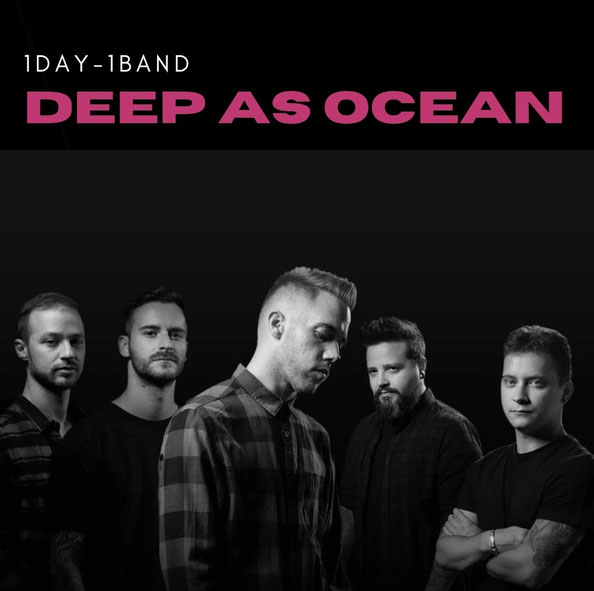 ---
Hey! :) Let´s continue 1DAY1BAND in 2021! With the Milan, Italy based band
Deep as Ocean
Start of the "Chronicles"
Deep as Ocean +++ Hey! Let's continue the virtual travel journey again to Europe, with south mediterranean vibes here - Italy! Let's move again to the heavier sounds with Deep as Ocean!
The band's journey started by two brothers, Alberto (Guitar) and Riccardo (Drums) in 2016. Matt (Vocals), Matteo (Bass) and Manuel (Guitar) joined the band soon afterwards. For the following years, DOA created their own significant sound as Metalcore / Post-Hardcore band from Milan in Italy.
---
---
Starting from the beginning in 2016, DaO released its first EP "Lost Hopes | Broken Mirrors". At the end of 2018, DAO got back to the studio to work on new material, including the song "The Sinking Ship" and its music video. Continuing the set list, the quintet build up two releases in 2019, "Hourglass" (feat. Matt Gelsomino from Novelists) and "Oblivion," which gained over 20k streams in a couple of weeks and was welcomed to the "New Blood | Spotify playlist". In October, "Knives and Flames" and its official video was out and as well featured in Spotify's playlists "New Blood" and "New Core". During the same year, Deep as Ocean debuted with the band's history first album, "Crossing Parallels".
---
---
Entering 2020, "Harakiri" and "Death Whistle" have extended the group's repertoire. As a modern vibe of mixed nu and Melodic Metalcore from Italy, DaO's music reached 1 million streams on Spotify with "Death Whistle" included in "New Blood" and "New Metal Tracks" playlists. With "Blood Eagle", the quintet released their newest record for the upcoming EP "Chronicles" for the next year!
If you are curious for what the band brings up next, please check out Deep as Ocean's music! :)
---
FIND THE BAND I SOCIAL MEDIAs