---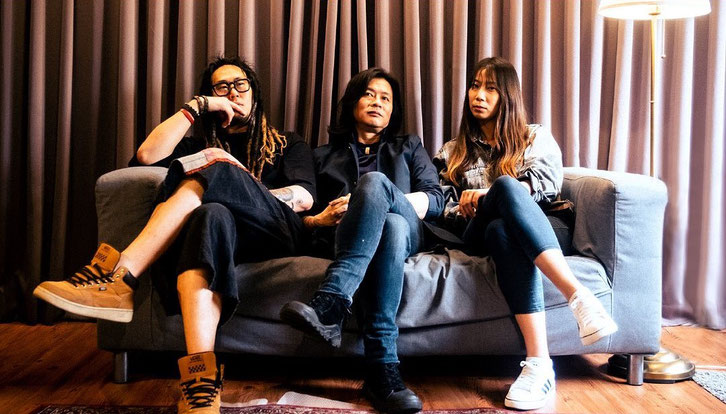 ---
"HARRYBIGBUTTON – KOREA'S REPRESENTATIVE HARD ROCK BAND"
HarryBigButton is a Post-Hard Rock trio from Seoul, South Korea. The music of Sungsoo Lee (vocals, guitar), Inyoung Kim (bass) and Yeonsik Yoo (drums) is characterized by hard guitar riffs, groovy rhythms and Lee Sungoo's charismatic, rough vocals. The band was named after a slang term for a vintage stereo with big buttons.
Their debut EP, Hard 'N' Loud, was released in 2011. In 2012, the band received wider publicity after appearing on Korean TV channel KBS's Top Band show. The first full studio album "King's Life" was released in October 2012 and received critical acclaim worldwide. After the success of their first album, they became one of the most popular rock bands at major music festivals in Korea. HarryBigButton is one of the top Korean hard rock bands.
---
---
The band is holding 2 upcoming events this week for the first time in Germany. You can join for free the concerts in Hamburg and Berlin! Online registration needed! Also, HarryBigButton have released their new song, "Thelma & Louise". The first single from the band's upcoming new album Season 2 is their own sequel of the film 'Thelma & Louise". The band leader, Sungsoo says he is a huge fan of the movie and he cannot even count how many time he has watched the movie "Thelma & Louise".
The reason why he wrote this song is that he didn't want them to run off the cliff and he tried to find out how to make them alive. He eventually wrote his own version of Thelma & Louise sequel in music. So let's find out what happens in the sequel! We all are having a very difficult time at this moment. Whatever happens, Stay Hard and Let's Keep Going as Thelma (Geena Davis) says "Let's Keep Going" in the movie.
Berlin and Hamburg, enjoy!
---
HarryBigButton - Live in Germany

24.03.2022 Knust, Hamburg
25.03.2022 Kesselhaus, Berlin
* Angaben zum Event siehe Veranstaltungort. 
Es gelten die üblichen Auflagen.
---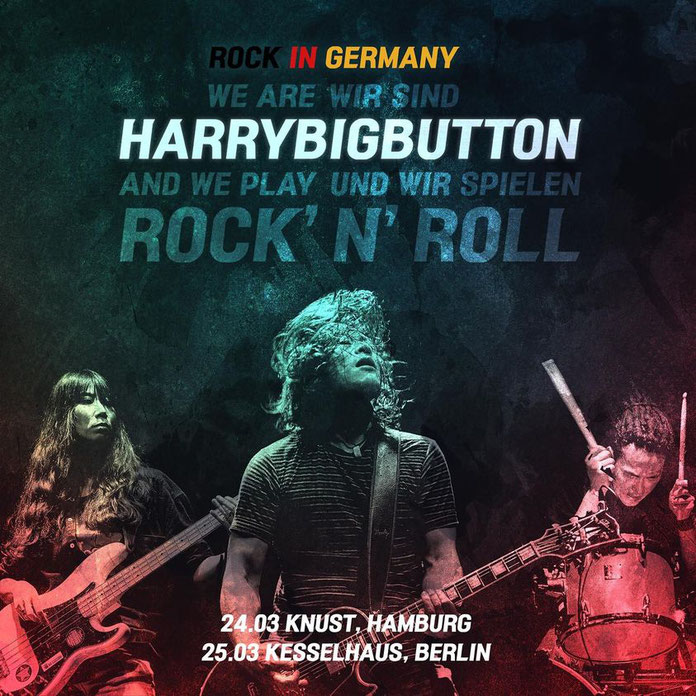 ---
2020     MBC Najang, Nanjang Sound Festival
2019     Taoyuan Iron Rose Music Festival,
             Taiwan
2019     Live in Khabarovsk, Russia
2019     Busan International Rock Festival
2019     Pentaport Rock Festival
2019     Rock in Russia 6    
2018     Busan International Rock Festival
2018     JUMF @ Jeonju Stadium
2017     Rock in Russia concert tour     
2016     Valley Rock Music & Arts Festival
2016     Lets Rock Festival
2016     Zandari Festa
2015     MU:CON Showcase
2015     Zandari Festa
2015     Ansan M Valley Rock Festival
2015     EXIT Soundholic Festival
2014     Zandari Festa
2014     Incheon Pentaport Rock Fes. 2014     
2014     Soundholic Festival 2014 Exit
2013     HarryBigButton Solo Concert 
2013     Jet Fest 2013
2013     Korea Live Music Festival
2013     Lets' Rock Festival
2013     Busan International Rock Festival
2013     Super Sonic 2013     
2013     Jisan World Rock Festival     
2013     Green Plugged Festival
2012     Jisan Valley Rock Festival      
---
*Unpaid Advertisement - © HARRY BIG BUTTON