---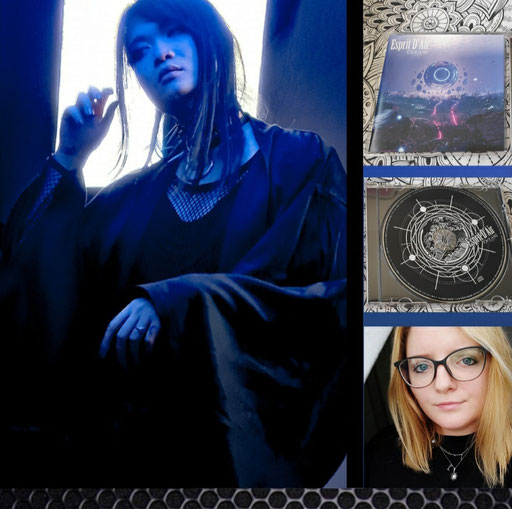 ---
ENGLAND/ JAPAN +++ It´s been a while, since the last unboxing blog post! Let´s check out Esprit D'Air´s newest record Oceans, released on February 18th, 2022 via Starstorm Records!
Esprit D'Air´ ("Spirit of Air" in French) is an Award-winning Japanese Rock/ Metal band based in London. Since 2010, the band performed at numerous shows in the UK, Germany, Netherlands, France and Spain. With the amount of expierence they also have been interviewed by the Japanese video sharing website Nico Nico Douga. To decribe a bit of the band's history, the Single 'Shizuku' became the first playable song in the J-Rock category of the video game "Rock Band 3". 
Esprit D'Air reformed as Kai´s Solo project in 2016 with the single release "Rebirth". With an amount of fanbase in the EU, the band directly presented themselves in London and at Le Trianon in Paris. In 2017, Esprit D'Air performed a full capacity headline show at the O2 Academy2 Islington. With Guiding Light, the band released the second comeback single in the same year. The music video was exclusively premiered with Teamrock.com and later listed as their top 50 best rock songs of 2017.
---
---
The studio album Constellations (2017) were #3 on Amazon's best-seller in the Hard Rock/ Metal category and performed at O2 Academy Islington as a support act for The Birthday Massacre as well as a 7-day headline UK Tour.
In 2018, Esprit D'Air won 'Best Metal Album' at The Independent Music Awards in New York, for the release of their debut album, Constellations, judged by an esteemed panel featuring Slayer, Amy Lee (Evanescence), Sepultura & more. Kai is not seeking a major record label but instead, follows a strong DIY ethos and produces everything himself to be as self-sufficient as possible. Consequently, they record and produce their own releases in their own home recording studio.

In late 2020, Esprit D'Air released their single, "Leviathan", receiving support and praise from Loudwire, Kerrang! Radio, as well as members of The Sisters Of Mercy, and The Birthday Massacre. In February 2021, Esprit D'Air released their 10th Anniversary Live album. In March, they released their explosive cover of X JAPAN's Kurenai, followed by a featered songs of Ryo from Crystal Lake and Ben Christo from The Sisters of Mercy.    
---
---
2012 JpopAsia Music Awards – "Best J-Rock Single" (Nominee) – Shizuku
2017: Neo Awards – "Best Musical Act" (Nominee)
2018: Independent Music Awards – "Best Metal or Hardcore Album" (Winner) – Constellations
2019: Neo Awards – "Best Musical Act" (Fourth place, sponsored by SEGA
Oceans appears as a 20-song strong album, inspired and influenced by rock and metal, accompanied by electro and orchestral elements. The record, which is broad in genre, offers something for every fan, from rocking ballads to melodic rock and hard metal. Beginning with the orchestra-backed rocking intro, Tsunami kicks off, followed by the most streamed release to date, Leviathan. 
Oceans Call stays true to Electro Rock. Catchy and refreshingly loud, The Abyss features Crystal Lake's Ryo Kinoshita. Calmer tones follow with the duet Dead Zone and Ben Christo The Sister of Mercy. In the following it remains as usual full of orchestras with Nebulae, Amethyst and Both liar feat. Umikaze Taiyou.
---
---
The middle of the album makes with song number 10 Sazanami as a rocking ballad and already has a great selection of guitar solos and genre mix. Guiding Light appears as the follow-up song to the album Constellations (2017) in a reimanged version, while Calling you retains the usual electronic sound. 
The tracks Distant waves and Moonlight tides serve here as an instrumental, accompanied by the ballads Glaciers and Deai (orchestra mix). We round off Oceans with the 4 bonus songs as Leviathan in two versions (HEAVYGRINDER Remix)/ (Shirobon Remix), a cover version of Kurenai by the Japanese cult band X-Japan and the song Serafine (DEAD END Cover).
A wide mix for fans of melodic rock!
Definitely listen! Due to the versatility of the album, there is something for everyone, from brute guitar riffs to quieter sounds! If you've got the taste for it now, you can see the band live on their uk tour at the end of july/ beginning of august! Stay heavy and rock on!
---