---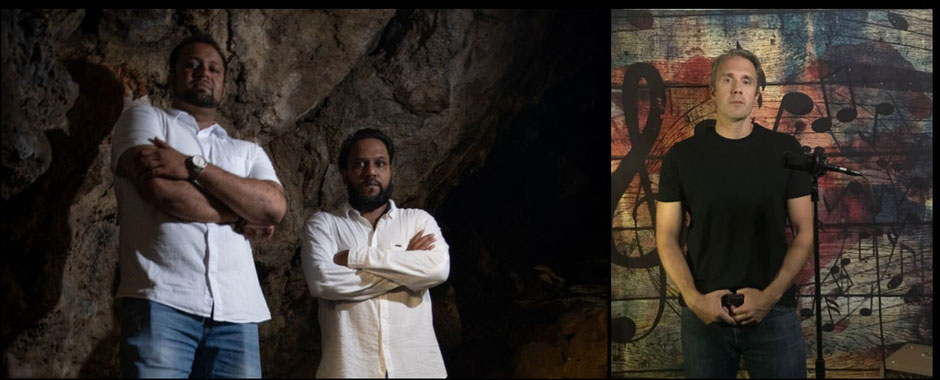 ---
Welcome to a new african country featured on this blog! Mauritius, an island nation in the Indian Ocean. The country is known for its beaches, reefs and mountainous rainforests.
Heroes Fall Last is a two-member post-grunge/alternative metal band with lead vocalist, bass guitarist and keyboard artist Nitish Ubhee and guitarist and sound engineer Shelley Seeam. In the beginning of 2021, the two friends formed their own band and their own music studio. Heroes Fall Last released their first single in March 2021. He Shivaaya Shankara, a devotional rock song released on the occasion of a religious festival in Mauritius.
The band's musical style can be described with melodic riffs in distorted guitar and vocal dynamics that combines post-grunge attitude and harsh vocals/screams. Heroes Fall Last are deeply influenced by Linkin Park, Alter Bridge and Foo Fighters. The lyrical content centres mainly on how we can stand together and fight for the right cause, and how anybody can be a hero by standing up for what is right. The band's name stand's for the attitude, that heroes do not believe in lost causes and never leave a fight. On 23rd July 2021, they released their second single, Can't Face Me.
---
---
Besides the usual records, the band started with HFL Sessions a collaboration with guest artists, featuring both original and cover songs of various genres. Its a platform on which to explore different musical influences and to present them in a fresh, contemporary, unique way.
Black Clouds - Heroes Fall Last X Copperstone
The newest record is also a release of the collaboration series. Black Clouds features the vocalist from alternative rock band Copperstone from Pittsburgh, USA and tells the travels of a fictitious Gunslinger, inspired by the character in 'The Dark Tower' series by Stephen King. Heroes Fall Last described their influences here by artists like Joe Bonamassa, Black Country Communion, Brother Dege and Kenny Wayne Shepherd Band.
---
---
I really like the vibes of rock, blues and western tunes here! Just by listening, it creates a scene in my head that, which could be instead a movie soundtrack. Again with a new genre, the band shows their amount of knowledge in this self-arranged release. In the history of this blog, I never saw a band, that changed the genre at every release and collab like that with different artists!
If you are curious for what comes next, please check out Heroes Fall Last´s Social Media!
---