---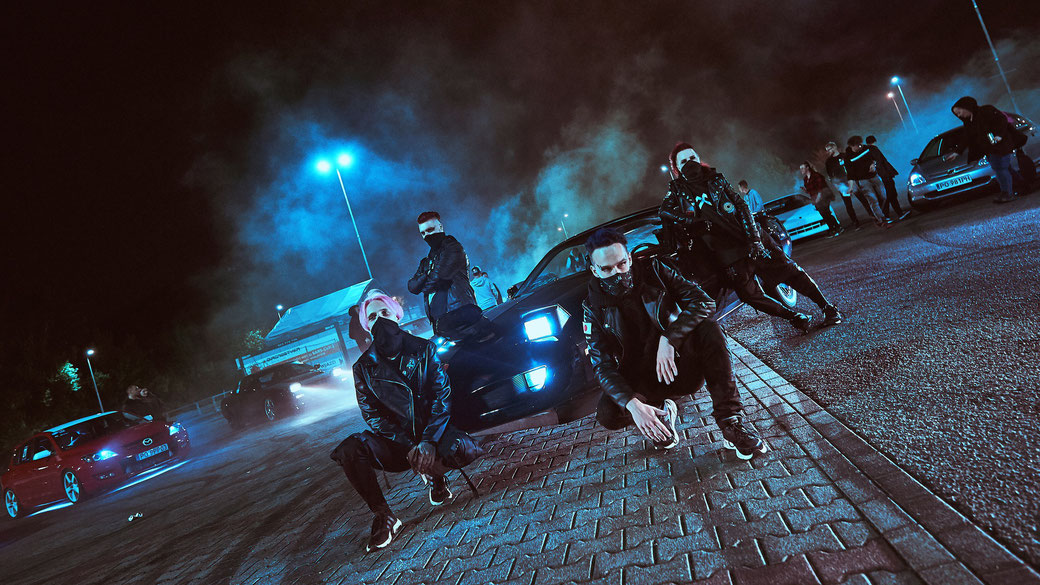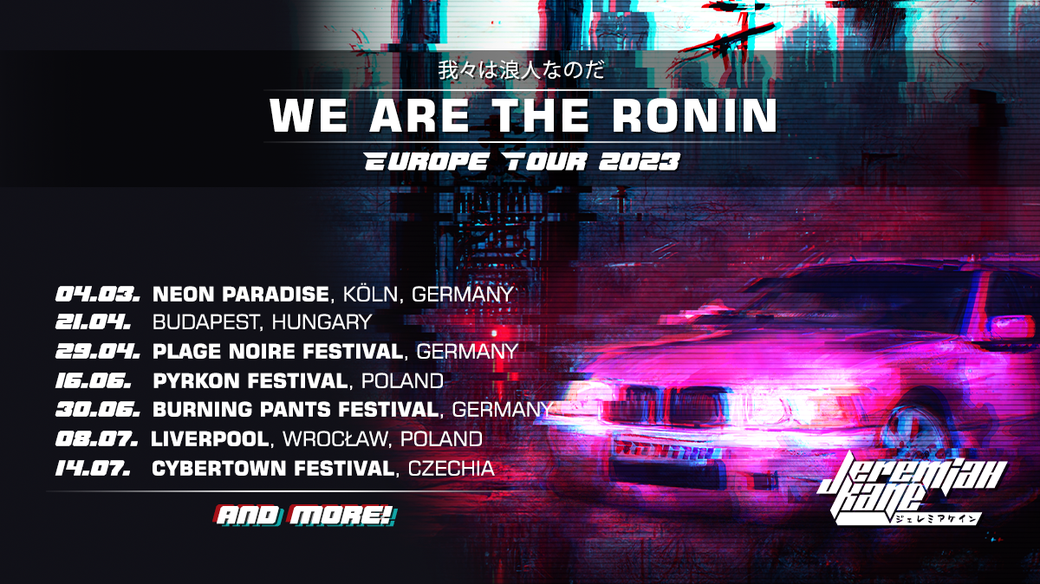 ---
Every two months, the two DJs Ben & Nora light up Cologne's BlueShell in Darkwave, Synthwave and Cyberpunk under Neon Paradise. Friends of Synth and Metal get together as well last weekend with Jeremiah Kane as special guest. Beginning at 10 p.m., the first tracks from the DJs really got the perfect mood from this early night. Around 11:30 p.m., Jeremiah Kane started the first concert of their release tour Ronin album release tour with Japanese sounds from the intro song Yokoso. The enthusiastic crowd was hooked on the Synth Metal Mix of the following songs, "Never back down" and "Specter", as well from their newest album. With 2500 Racing, they tuned into a classic from their 2018 album All or Nothing as the fourth song on the setlist. The quartet, inspired by Japanese racing, anime and artists, was particularly convincing due to its energy on stage and possibly reminded of one or the other Japanese 80s sound. With "Wangan Devil" and "This Night is ours", the Japanese Street Rock band convinced with authentic Metal riffs, which rounded it "Lights out", "Kanjozoku" and "Sinners". The final for this great concert made the song "All or Nothing". After the concert, fans were able to buy the current band merch at the booth.
Ben & Nora played a well done DJ setlist until 4:00 a.m., when the doors of Neon Paradise, under Synthwave, Darkwave and Cyberpunk closed their door's til the next event in May. This event was a new experience for me in many ways, because I haven't listened really the genre before, either have known the special guest before. I'm happy to have been there and recommend every fan from Electro to Metal to be there! Until next time! :)
---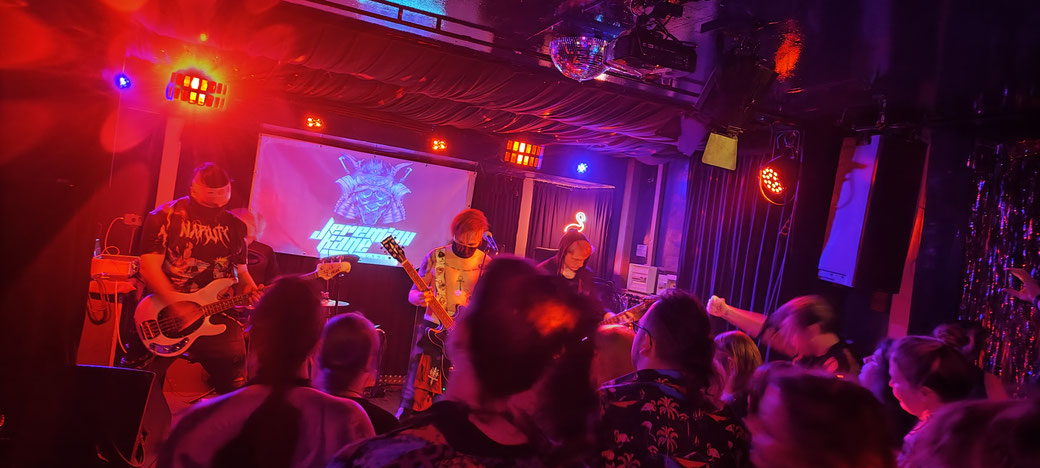 ---
Back story - Neon Paradise
What is "Neon Paradise":
Do you like 80s synthesizers or do you like cyberpunk, but want modern beats and a tolerant, friendly crowd to party? Then come to us at the Blue Shell - which is considered an authority for alternative newcomers - and immerse yourself in an atmosphere between Blade Runner and Stranger Things! With fog and neon light we dance through the night. All friendly people are welcome, no matter what you look like or who you're into. There is a cloakroom, nice bouncers and a small outdoor area for smoking. And all this for a really fair price! Synthwave/ Darksynth/ Cyberpunk All Night Long!
Back story - Jeremiah Kane
Based since 2017 in Poznań, Poland, JEREMIAH KANE started as solo project and grown up over the year into the members Jeremiah Kane, Vincent Kane, Jacob Kane and Chris Kane. Inspired by the nostalgic video game generation of the 80's and the cyberpunk genre, they produce a mix of electronic music and guitar driven rock. In 2017 JK released as solo project his debut EP, NEOANGELES, and the debut album, THE NEW DAWN. Vincent Kane, a childhood friend and previous bandmate of Jeremiah, joined the band in 2018, first as a live guitarist and later, as a full member and a co-writer in all the band's later releases. JEREMIAH KANE released their 2nd album, ALL OR NOTHING in 2018, while it quickly gained attention in the Synthwave music community, considered a major breakthrough for their career and cited as one of the best Synthwave albums in 2018. In 2019, they focused on promoting their latest album release and went on their first European tour, touring such countries as the Czech Republic, Ukraine, Hungary, Germany, and Belgium.

---
---
In 2020, JEREMIAH KANE announced that they will work with a German music producer, Kristian "Kohle" Kohlmannslehner (known for his work with bands such as Eskimo Callboy, Powerwolf, and Hämatom), to work on their future material. This cooperation led to the release of the single Never Back Down, on the 6th of March, 2020. Their next single SPECTER was released on 7th August 2020. Only 2 months later, on 30th October 2020, followed a remix of NEVER BACK DOWN by the band BlazerJacket and JEREMIAH KANE signed a booking deal with NoCut Entertainment. Afterwards followed also a label deal with NoCut. The company has already been working successfully for years with national and international artists such as MONO INC, Joachim Witt, Eisfabrik, Tanzwut and MANNTRA. The new JEREMIAH KANE album RONIN will be released at the end of September 2022.
---
---
*Unpaid Advertisement © Jeremiah Kane • Neon Paradise