---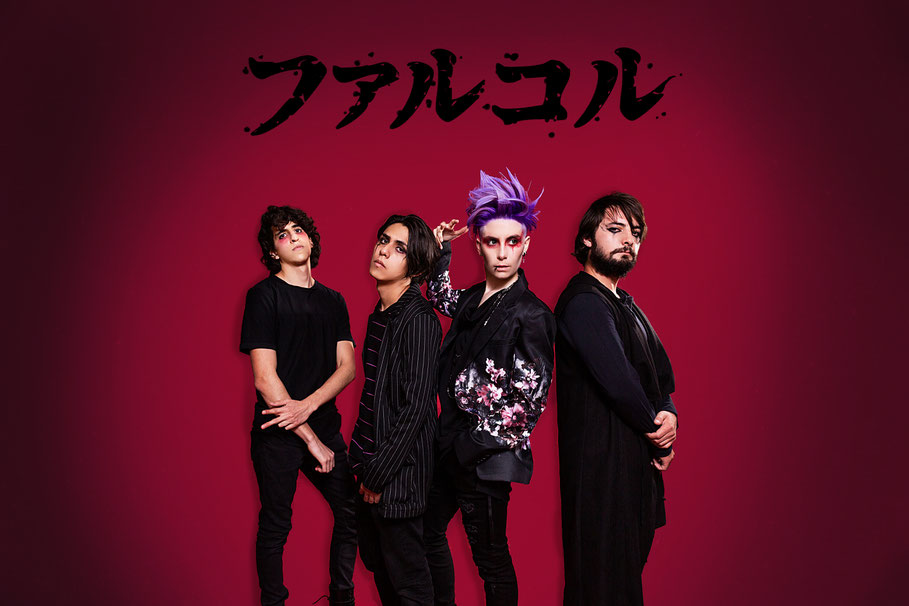 Photo: Falkör Royal Stage
---
It all started around 2005, when Visual Kei and J-Rock become an famous subculture around the globe. Many bands from Japan have toured to western countries during that time and inspired by this fascination, many western bands as well created their own vision of J-Rock-inspired music. But around 2016, more and more bands from the scene, in and outside from Japan disbanded. So it´s really rare these days, go get to know groups outside from Japan, who still continue to keep up this old vision. One of them, is Fälkor. I personally started as well in 2005 and joined 2006 my first J-Rock concert in cologne.
About J-Rock and Visual Kei
J-Rock, as we call it as an own Genre, has their start of music history in the 80s, inspired by Western Heavy Metal bands. Visual Kei became the clothing style, which as well has different subcategories insprired by rock, punk and gothic outfits. Each era has their represented artists. Some changed more into western music and are known now around the world, some continue the originally spirit.
---
---
Fälkor is an Alt-Metal band from Puebla, Mexico. Their sound is a fusion of heavy and melodic music with influences from J-Rock/J-Metal, Metalcore, Hard Rock and Synthpop. The band's aesthetics draw inspiration from the Japanese Visual Kei scene, creating stimulating experiences through impactful videos and exciting concerts. The formation of the group are F. Wølf (vocal), Roi Gosset (guitar), Dan J. (bass) and Edgar Funes (drums).
Fälkor, thank you for letting me introduce you at Discomfort Wings blog! Very glad to get to know you better!
Q:Would you like to introduce yourself first in your own words?
F. Wolf: Hi! We're Falkor, an alternative metal band with a visual kei style and music based in jrock and jmetal, and genres like metalcore, posthardcore, emo, avant garde... Etc. We love fusing heavy and melodic music with highly emotional lyrics.
Q: So, at the first sentences of this article, I explained a bit about the scene. Since when does Japanese Rock music inspire you and which band got you into it?
F. Wolf: Since around 2003 and the first bands that introduced me to it were Buck-Tick, Dir en grey, L'Arc-en-Ciel, La'Cryma Christi and Malice Mizer.
---
---
Q: How exactly have you as members found each other and decided to create the band?
F. Wolf: I first met Roy back in 2014 when he decided to join a previous band I was in. After we both decided to quit that band we decided to form Falkor. We had the idea as a whole but couldn't find the perfect members to join the band until 2019, when Ed saw a poster where we were secretly recruiting members (it was a secret because we never disclosed the band's name on these posters), he made the audition and he ended up joining us.
Then around the summer of 2020 is when Dan joined the band. We had met each other some years prior because of a previous band he had which ended up dissolving itself, I was a fan of this band and he was a fan of Proto-Falkor, so we became friends after meeting on shows around the scene. While looking for a bass player, I asked him if he wanted to join us, to which his first answer was no because he was dealing with some issues by the time, but 2 months later he retook the offer and was happy to join us. After that it's all history and we became like a happy family of weirdos, hahaha.
---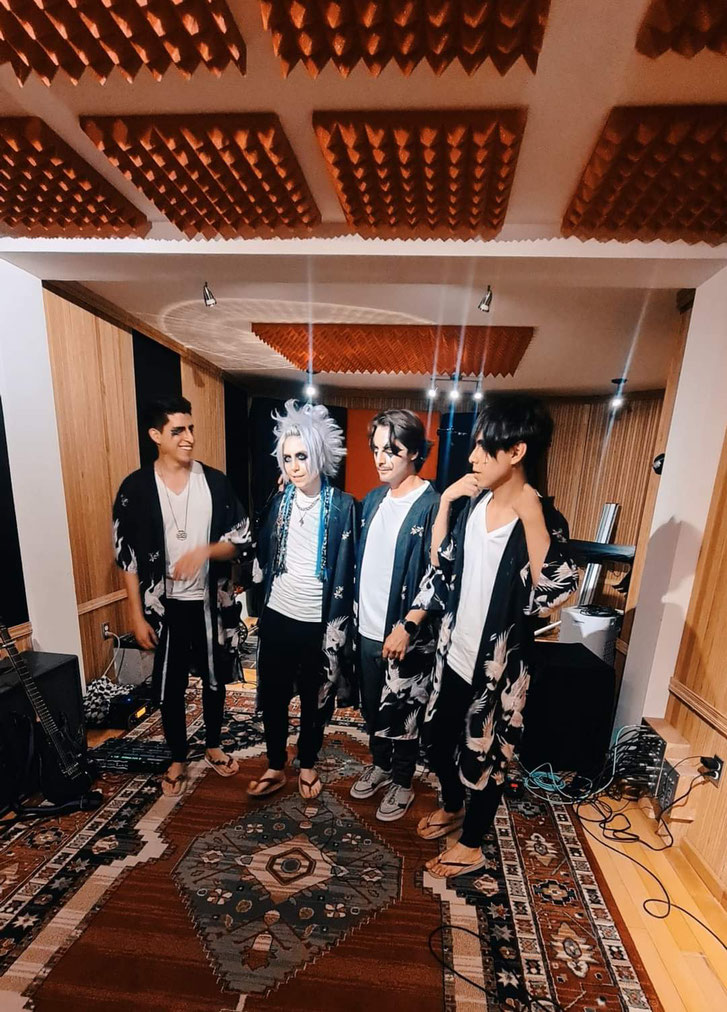 Photo: Falkör Royal Stage
---
Q: Fälkor sounds like an own creation of words. Could you explain the story behind it and how to pronounce it correctly?
F. Wolf: Fahl-Kor, the umlaut is only for aesthetic purposes only, it's the name that was given to the English version of Fuchur, the flying luck dragon from Michael Ende's "Die unendliche Geschichte" which is one of my all time favorite books and movies.
Q: By listening to your songs, your sound is very unique and reminds me of the good old days. Can you explain a bit, what the process of song creation looks like? Which bands inspire you as a group in your sound?
Roi: Most of the songs have been created from an idea contributed by one of the members. Whether it's a melody or a chord progression. These ideas are shown to the other members and from there each one contributes according to their instrument and in general to the essence of the song, whether musically or in structure. Each member has different musical influences, and many could be named, but the most influential would be: Dir en Grey, The Gazette, L'Arc-en-Ciel, Deftones, Avenged Sevenfold and August Burns Red.
Q: Can you explain to us a bit about the scene in Mexico? Which events have you joined there?
Edgar: We haven't played together that much with this alignment, the first time we had a show all together was on December 2021, so it's pretty hard to describe the scene in our country, as we have joined totally different venues and shows. However we just participated on a band battle in order to play at the Hell and Heaven Metal Fest, also we are looking forward to play on a tour along with other bands in cities such as Villahermosa, Cuernavaca, and Mexico City.
---
---
Q: What are your future plans?
Edgar: We think that our main plan now is to focus on the tour and the upcoming events we have now, it's pretty much the opportunity that we have been awaiting for years. But still, we are planning to make some music to launch by the end of this year!
Q: Some words for fans and new listeners:         

Dan: First of all, thanks for everything, for streaming the songs, videos, and for the positive comments about our work. It means the world to us that this band is growing constantly after some complicated years.  New music is coming soon, and we hope you'll like it. Thanks for joining us, welcome to this little family.
Thank you for the interview! :)

Gracias, arigatou!
---
---
*Unpaid Advertisement - ALL RIGHTS TO ROYAL STAGE I FÄLKOR